Click on the link below for a detailed species account.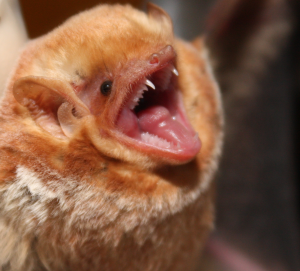 Description:
The western red bat (Lasiurus frantzii) is a medium-sized bat with short, broad, rounded ears that do not extend much above the dorsal fur. The nose is short and inornate. The posterior one-third of the interfemoral membrane is bare or only sparsely haired.
Color:
Aptly named, the western red bat sports a pelage that ranges from rusty red to brownish. White- or silver-tipped hairs that give the frosted appearance so characteristic of the closely related hoary bat may or may not be present; however, the face of a western red bat typically lacks these light-colored highlights.
Range:
The western red bat occurs in the western United States from the western edge of the Great Plains to the Pacific Ocean (although it is mostly absent from the Great Basin), from northern California, southern Idaho, and southern Wyoming south to the U.S.-Mexico border including Arizona, New Mexico, and western Texas. South of the U.S.-Mexico border, the Western Red Bat occupies much of Mexico, excluding the Mexican Plateau and coastal areas abutting the Gulf of Mexico and the Caribbean.
Recent studies have determined that in western Canada, old records formerly thought to be those of the Western Red Bat have been confirmed genetically as the Eastern Red Bat. Current distribution records suggest a significant gap between the occurrence of Western Red Bats (e.g., there are currently no confirmed records of the species in Oregon or Washington) and the current westward and southward expansion of the Eastern Red Bat from the north and east. The Eastern Red Bat is currently thought to be the only "Red Bat" occurring in western Canada.
Roosting:
Western red bats are usually solitary, roosting in the foliage of large shrubs and trees, usually taking shelter on the underside of leaves. Often found hanging by one foot from the leaf petiole, they may occasionally hang from a twig or branch. However, they may also be found in rock crevices adjacent to riparian corridors.
Characteristics:
Western red bats roost along woodland borders, riparian corridors (especially with large sycamores) including oak riparian habitats, and urban areas with large (esp. large-leafed) trees. Other favored roosting trees include cottonwoods, sycamores, walnuts (and possibly other older, larger nut species), and older willows with dense leaf clusters.
Feeding:
Western red bats are insectivorous. In most populations, moths comprised a large percentage of their insect prey. Foraging typically begins one to two hours after sunset. Foraging occurs in and amongst vegetation. Foraging habitats include oak woodlands, and coniferous forests (at low elevations), along riparian corridors, amongst non-native trees in urban and rural residential areas, and within mature orchards. Western red bats may forage through most of the night within the initial foraging period commencing soon after sunset, a feeding hiatus spent at a temporary night roost followed by a secondary activity period prior to sunrise – often corresponding to a pre-dawn spike in insect activity.
Red bats may offer significant benefits to agriculture – this species can be found in habitats and agricultural areas adjacent to streams and rivers at some distance from known roosting habitats.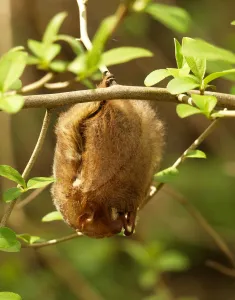 Migration:
Some populations of the western red bat make north-south migrations in spring and fall. Other populations (e.g., along our Central Coast) may not, and may simply hibernate for short periods of time between suitable foraging periods. They may even interrupt extended periods of hibernation for short periods during periods of warm winter weather.
Breeding:
Mating occurs in late summer to early fall. Following delayed fertilization, the female will often give birth to pups in late spring to early summer (between early May and late June). There are typically two, occasionally three, and up to five pups in a litter. Females remain solitary with their young at modest risk of predation to both mother and offspring – known predators include commonly occurring birds (e.g., western scrub jays) and arboreal mammals (e.g., raccoons, Virginia opossums).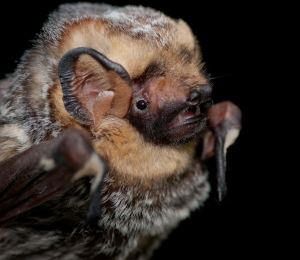 Description:
The hoary is a thickly-furred, relatively large bat with the dorsal surface of the (tail) membrane between hind legs and feet densely furred. Ears are rounded with glossy, black, naked edges
Color:
The fur color of the back is typically grayish or brownish, heavily frosted with white (hence its name – "hoary," meaning "gray or white" or "aged")
North American Range:
The species is found throughout North America, including most of eastern Canada and most of Mexico outside its west coast and the Baja peninsula.
Roosting:
this is a solitary bat that roosts in trees, often within leaf clusters.
Characteristics:
Hoary bats are very strong fliers. They may use the heavily-furred tail as a blanket during a period of cold temperatures
Feeding:
Hoary bats typically depart roosts 2-5 hours after sunset. Moths are a common component of the hoary bat's diet, but they may also eat beetles, grasshoppers, termites, dragonflies, and wasps.
Migration:
The hoary bat is migratory in some populations (specifically, moving from north to south for the winter months) but transient and/or resident in others (for example, our Central Coast population). In the latter case, some individuals migrate from colder inland areas to more temperate climates along the coast. Hoary Bats are rarely found in winter hibernacula in the U.S. but may be active throughout the year when conditions are favorable.
During spring migration, pregnant females preceded males in their northward journey.
Breeding:
Breeding occurs in the fall. Typically there are two pups per litter, with young typically born in the period between May and July. Males and females typically do not coexist during the summer months.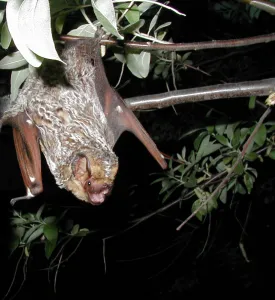 Mexican (Brazilian) Free-tailed Bat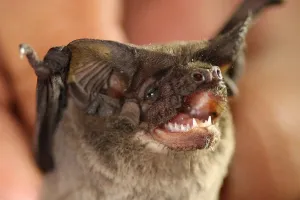 Description:
The Mexican free-tailed bat (Tadarida brasiliensis) is a medium-sized bat. They have broad, black, forward-pointing ears. Like other members of the genus Tadarida, they possess characteristic wrinkled lips. Their tails extend more than one-third beyond the tail membranes, which gives this species its "free-tailed" moniker (most other bats have tails that are completely enclosed within the tail membranes). Their wings are short (that is, from the leading edge to the trailing edge) and broad (that is, from side to side).
Color:
Mexican free-tailed bats are red-brown to dark brown or dark gray in color on the dorsum and light-colored below – typically pale yellow to dirty white. Their broad, forward-pointing ears are naked and dark brown to black in color. The interfemoral membrane is similarly dark in color.
Range:
The Mexican free-tailed bat occurs throughout the southern half of the United States, with a more northerly distribution in the west and a more southerly distribution in the east. There are a few limited population centers scattered in more northern locations in the Midwest. The species can also be found throughout Mexico, excluding the Yucatán peninsula.
Roosting:
Mexican free tails are predominantly cave-roosting bats. Certainly, their largest colonies are located in caves. Occurring in smaller numbers, Mexican free-tailed bats may also roost in attics, under bridges, or in abandoned buildings. Most Mexican free-tailed bat colonies, large or small, are located close to the water – proximity probably being an essential component of the life history strategy for an insectivorous species that associates in such large numbers.
Characteristics:
Mexican free-tailed bats are extremely fast fliers, certainly among the fastest-flying bat species. Their long, narrow wings are appropriate for high-speed flight. Their short, silky fur and ear orientation may contribute to speed and lift, respectively. Roosting in numbers that can exceed several million, they form the largest colonies of any mammal (including humans). Their large roost numbers also play a factor in their role as "guano bats," extraction of which was once a major source of "natural" fertilizer. In the early 20th century, bat guano played an important role in California agribusiness.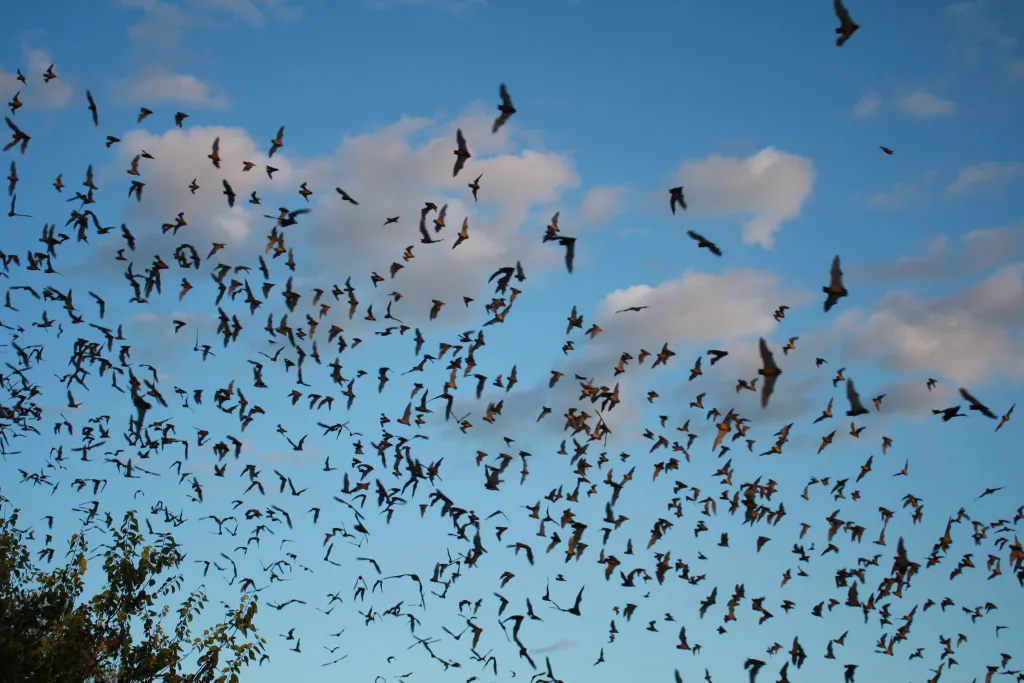 Feeding:
Mexican free-tails emerge around, including just before sundown, and feed exclusively on flying insects – primarily moths, flying ants, and beetles – and exploit insect blooms, insect-rich agricultural fields, and river-associated high-density insect populations.
Migration:
Although there are some populations that remain within the continental U. S. over winter, this species is highly migratory, and most of its populations move southward into Mexico and Central America during the Northern Hemisphere winter months. It appears that this species is active throughout the year. Populations may be sedentary in temperate climates, but most migrate to warmer winter climates in order to remain active.
Breeding:
Adult Mexican free-tailed bats mate prior to the northward migration. Upon arrival on the breeding grounds, adults typically separate from females, often forming immense nursery colonies, while the males form bachelor colonies, which can range from but a few individuals to 10s of thousands in number. Females typically produce one pup each year, and unlike many bat species, pups are born during a very narrow time frame, most often in the month of June, albeit with some variation in climate-based onset date.